Associate Professor of Biology, Chair
PhD University of Wisconsin, Madison
BA Swarthmore College
Tel: 269.337.7160; Office: Dow 313
Email: Michael.Wollenberg@kzoo.edu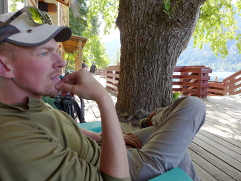 ---
2019-present Associate Professor of Biology, Kalamazoo College, Kalamazoo, MI
2014-2019 Assistant Professor of Biology, Kalamazoo College, Kalamazoo, MI
2012-2014 Postdoctoral Fellow, Forsyth Institute & Harvard School of Dental Medicine, Cambridge, MA
2004-2012 PhD Candidate/Fellow, University of Wisconsin-Madison, Department of Medical Microbiology and Immunology, Madison, WI
Research Interests
Our lab studies molecular biology, ecology, and evolutionary biology questions related to bioluminescence in Photorhabdus luminescens. P. luminescens are the only bioluminescent, soil-dwelling bacteria characterized to date; molecular evidence suggests that the genes responsible for light production in P. luminescens are related to similar genes in distantly-related marine bacteria.
We also study aspects of the interesting life history of P. luminescens. P. luminescens are a symbiotic partner of soil-dwelling nematodes. In this symbiotic relationship, P. luminescens are able to help their nematode host kill insect larvae and other (competing) bacteria. We are interested in small molecule-mediated interactions facilitated by P. luminescens with host nematodes, insect larvae, and other bacteria.
Current Courses
BIOL112 Evolution and Genetics with Lab
BIOL295 Computational Tools for Biologists with Lab
BIOL322 General and Medical Microbiology with Lab
BIOL488 Topics in Biology: The Symbiotic Habit
BIOL495 Topics in Biology: SARS-CoV-2 & COVID19
Selected Grants
NSF ISO 1755230 (2018-2022)
NIH Oral Health Traineeship (2012-2013)
NIH MIcrobes in Health and Disease Traineeship (2010-2011)
NSF Graduate Research Fellowship (2005-2008)
Selected Publications
Speare, L., Cecere, A., Guckes, K.R., Smith, S., Wollenberg, M.S., Mandel, M.J., Miyashiro, T. and A.N. Septer. (2018) Bacterial symbionts use a type VI secretion system to eliminate competitors in their natural host. Proc. Natl. Acad. Sci. U.S.A. 115(36): E8528-E8537.
Lentz, T.B.,Ott, L.E., Robertson, S.D., Windsor, S.C., Kelly, J.B., Wollenberg, M.S., Dunn, R.R., and C.C. Goller. (2017) Unique down to our microbes: assessment of an inquiry-based metagenomics activity. J. Microbiol. Biol. Educ. 18(2): PMID: 28861131. – Named one of JMBE's "most-viewed articles of 2017" by the JMBE editors.
Wollenberg, A.C., *Jagdish, T., Slough, G., *Hoinville, M.E., and M.S. Wollenberg. (2016) Death Becomes Them: Bacterial Community Dynamics and Stilbene Antibiotic Production in Cadavers of Galleria mellonella Killed by Heterorhabditis and Photorhabdus spp. Appl. Environ. Microbiol. 82(19); 5824-37. PMID 27451445.
Wollenberg, M.S., Claesen, J., Escapa, I.F., *Aldrich, K.A., Fischbach, M.A. and K.P. Lemon. (2014) Propionibacterium-produced coproporphyrin III induces Staphylococcus aureus aggregation and biofilm formation. MBio. Jul 22; 5(4); e0128614. PMID 25053784.
Wollenberg, M.S., Preheim, S.P., Polz, M.P., and E.G. Ruby. (2012) Polyphyly of non-bioluminescent Vibrio fischeri sharing a lux-locus deletion. Environ. Micro. 14: 655-668. PMID 21980988.
Mandel, M.J., Wollenberg M.S., Stabb E.V., Visick K.L., and E.G. Ruby. (2009) A single regulatory gene is sufficient to alter symbiosis host range. Nature. 458: 215-218. PMID 19182778.
—
Other Interests
Long-Distance Backpacking
Ultimate Frisbee
Fermentation