Facilities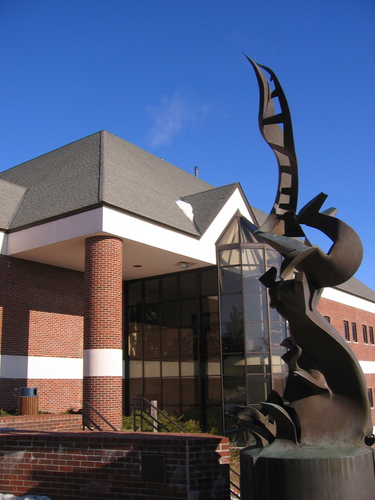 Dow Science Center houses the Departments of Biology and Chemistry and incorporates state-of-the-art design in teaching and research laboratories. Classrooms are equipped with advanced multimedia technology and a computer facility is available for use by students and faculty. Common areas include two glass atria and a lounge where students can gather for study or relaxation. Major biological science equipment housed in the the Dow Science Center includes:
automated molecular sequencing equipment
digital microscopy imaging equipment
phosphoimager for radioisotope detection and fluorescent imaging
cell and tissue culture facility
Micro-Oxymax respirometer
GC-EAD electrophysiology apparatus
GIS site license software for ArcView/GIS
greenhouse
Four-year grant from HHMI
For three consecutive grant periods (most recently 2008-2012), Kalamazoo College was awarded a major grant from the Howard Hughes Medical Institute (HHMI) to support interdisciplinary math and science education and training. The Departments of Biology, Chemistry, Physics, and Mathematics and Computer Science have used these awards to strengthen the undergraduate curriculum, fund student summer research opportunities, acquire new instruments and computers for use in teaching and research, and support outreach programs geared toward inspiring and preparing preparing K-12 students from underrepresented groups to study science in college.
W.M. Keck Laboratory for Cellular and Molecular Analysis
In 2003 the Biology Department secured a $380,000 grant from the W.M. Keck Foundation for improvements in laboratory equipment for courses with a cellular and molecular focus. The creation of the W.M. Keck Laboratory for Cellular and Molecular Analysis provides the means for faculty to share the enthusiasm and excitement of research with students at all levels in the biology program. With the new equipment, faculty are building upon an already strong and well structured biology program to create an accelerated but developmentally progressive cell and molecular laboratory curriculum. This new curriculum introduces students to sophisticated experimental techniques beginning in the first year, and continues to develop students' research and technical skills through core coursework and summer research experiences, such that students entering advanced biology courses have the necessary skills and familiarity with instrumentation to collaborate with faculty on original research in the context of course-based laboratories.
H. Lewis Batts Natural History Endowment
An endowment established in honor of former biology professor, the late H. Lewis Batts (K faculty 1950-1977), provides funds to ensure that the strong tradition of natural history studies continues at Kalamazoo College. Dr. Batts was a passionate naturalist and dedicated conservation biologist. In addition to his teaching and research at Kalamazoo College, Dr. Batts was instrumental in helping to establish the Kalamazoo Nature Center. Funding from the endowment provides support for equipment, coursework, field trips, guest speakers and summer internship stipends for students.
Lillian Anderson Arboretum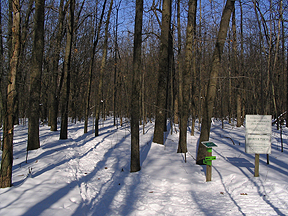 The Lillian Anderson Arboretum (LAA) was established in 1998 and encompasses over 130 acres of marsh, meadow, and forest habitats. Located just 10 miles from the college campus, the arboretum is owned and maintained by Kalamazoo College and serves as a valuable resource for experiential learning, community building, conservation, recreation and contemplation. A number of biology classes use the arboretum for field-based projects. For more information, visit the arboretum website.
Biology and Chemistry Center for Academic Success
The Biology and Chemistry Center for Academic Success provides activities and resources to welcome first-year and continuing students into the disciplines of biology and chemistry. Faculty-approved upper-level students offer peer-led instruction and tutoring for students in introductory biology and chemistry courses. Drop-in help sessions occur in the Library Learning Commons space; peer-led Supplemental Instructions sessions are held during evening hours in library classrooms. These services are available to all students at no cost.
College Resources
Academic Resources
The Learning Commons is dedicated to the idea of students helping students to raise academic achievement. Students who study in pairs or small groups tend to learn more and perform better than students who study in isolation. The Learning Commons capitalizes on the strength of peer collaboration by hiring students who have distinguished themselves in math, writing, science or library research to work with other students in these areas. Experienced students are an excellent resource. Because they remember what it was like to learn the material, they are adept at perceiving points of confusion and explaining difficult concepts. In addition, students who seek help from their peers tend to feel less intimidated about asking questions because of the inherent equality in the peer relationship.
Peer assistance in math, physics, writing, science and library research is available. These peer assistance services are available to all students at no cost. Please refer to the Learning Commons web site for more details.
Center for Career and Professional Development
The college's long-standing tradition of experiential education is an integral part of the curriculum in biology. The Center for Career and Professional Development serves as a campus resource center for students. The CCPD maintains an extensive database of internships, externships, fellowships and full-time employment opportunities for students, and offers assistance with job applications, interview skills and career exploration.
Center for International Programs / Study Abroad / Study Away
Kalamazoo College through the Center for International Programs (CIP) currently sends students to over 50 programs in 25 countries on 6 continents. Programs are three to nine months in length. The CIP also offers several three-month domestic study away programs. Over 60% of K students participate in study abroad or study away programs and science students participate at the same rate as students from other disciplines.