NEWS
More Kalamazoo College Biology news
---
The mission of our department and curriculum is to educate students in the field of biology and within the context of a Kalamazoo College liberal arts education. Through our courses, research collaborations, and advising we help each of our students become an intrinsically motivated, self-directed learner who enjoys a biologist's keen awareness of the natural world. Specifically, we foster development of the following attributes in our biology majors:
1) knowledge of the diversity of living organisms and levels – from molecules to ecosystems – at which those organisms can be studied
2) understanding of how organisms are affected by their evolutionary and developmental trajectories and how these are influenced by environmental contingency
3) ability to discover new biological knowledge and then communicate it effectively to others; and
4) curiosity about and empathy toward our shared environment.
---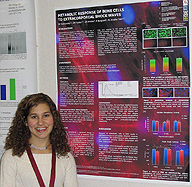 Consonant with the experiential-learning focus of the K-Plan and motivated by the biology department mission, our emphasis on an empirical approach to biology creates an environment in which students develop a strong foundation in biology. We encourage our students to ask and seek answers to probing questions, interpret primary literature, design and perform experiments, and make original observations of biological phenomena. The developmental progression from introductory core courses through upper-level electives prepares students well for the challenges of carrying out their Senior Individualized Projects, presenting results of those projects at our annual Diebold Symposium, and then continuing their education or seeking employment after graduation.
Archive of biology SIP theses and poster presentations (searchable; abstracts available to public)
---
Related Programs