---
Open Position 2022-23: Visiting Assistant Professor in Biology: (Anatomy/Physiology and Molecular Biology)
---
Biology Department Climate Change Page
---
Thursday, April 28
Opening Remarks and Keynote Address, Dow 226, The evolution of coloration and color vision in butterflies, 4:10-5:30 PM,
Keynote speaker: Dr. Adriana Briscoe, Department of Ecology & Evolutionary Biology, University of California, Irvine
Reception, 5:30-6:00 PM
Friday, April 29
Poster sessions, Hornet Suite (Field House), 4:30-5:40 PM and 5:50-7:00 PM
Saturday, April 30
Oral presentations, Dow Science Center 226 and 232
Opening Remarks, 9:50-10:00 AM
Session 1, 10:00-12:10 AM
Lunch, 12:10-1:00 PM
Session 2, 1:00-2:12 PM
---
News
---
The mission of our department and curriculum is to educate students in the field of biology and foster a community of learning and practice. Our approaches are embedded in the context of a Kalamazoo College liberal arts education. Through our courses, research collaborations, advising, and departmental experiences, we help all students find their place in science and develop a biologist's keen awareness of the natural world. Specifically, our goal is that all students who participate in Biology will:
1) feel curious about the natural world and empathetic toward our shared environment;
2) know what has been discovered about the natural world, the process by which such knowledge is gained, and how to evaluate competing claims;
3) identify as new members of an interdependent community whose goal is to address socially relevant problems and questions; and
4) continually apply/practice newfound knowledge and skills via career exploration, problem solving, research, communication, and teamwork.
---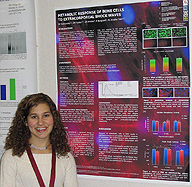 Consonant with the experiential-learning focus of the K-Plan and motivated by the biology department mission, our emphasis on an empirical approach to biology creates an environment in which students develop a strong foundation in biology. We encourage our students to ask and seek answers to probing questions, interpret primary literature, design and perform experiments, and make original observations of biological phenomena. The developmental progression from introductory core courses through upper-level electives prepares students well for the challenges of carrying out their Senior Integrated Projects, presenting results of those projects at our annual Diebold Symposium, and then continuing their education or seeking employment after graduation.
Archive of biology SIP theses and poster presentations (searchable; abstracts available to public)
---
Related Programs